We are one of the best time-proven centers for yoga and detox in Thailand!
Send us an inquiry through our Booking Form to receive special promotional rates for your reservation dates.
Click the questions below for additional information about Ananda Yoga & Detox Center's Detox Programs!
Why should I detox?
Detoxing at Ananda Yoga & Detox Center in Koh Phangan, Thailand is the best gift you can give your body, mind and spirit! Over time our bodies become overloaded with toxins. These toxins can accumulate through what we eat and drink, the air we breathe, what we put on our skin or even by the way we think! Although the human body is designed to eliminate toxins, it can quickly become clogged up and store harmful waste in the cells and joints. Ultimately this reduces the body's ability to function properly and to heal itself. 
Why should I choose Ananda?
Over the past 12 years Ananda Yoga & Detox Center has performed over 11,000 detoxes and has perfected a system combining Restricted Liquid Fasting, Colemas ("Colon Hydrotherapy"), Natural Western and Ayurvedic Herb Formulas, Probiotics, Thai Massage and Herbal Steam Sauna. People come from around the world to Koh Phangan, Thailand to experience our holistic approach. We have proven how internal cleansing heals the body, mind and spirit! 
Read more about the various elements of our Detox Program HERE.
What is included in Ananda's Detox Program?
Pre-Fast Consultation
Daily Support & Supervision
Daily Detox Herbs
Daily Nutritional Herbs
5 Detox Shakes Per Day
2 Hydrotherapy Sessions Per Day
Daily Thai Detox Massage on Fasting Days
1 Vegetable Broth Per Day
Filtered Drinking Water
Ginger Tea
Electrolytes and Spirulina (if needed)
Morning Meditation
Daily Gentle Afternoon Yoga Class (Mon – Sat)
Daily Herbal Steam Sauna 
1 Fresh Juice Per Day
1 Fresh Coconut Water Per Day
Saltwater Pool
Probiotic Replacement
Post Fast Meal
Post Cleanse Guidance
FREE WiFi
Read more about the various elements of our Detox Program 
HERE
.
What is the daily schedule?
7.30 am: Detox Shake
9.00 am: Detox Herbs
9:15 am: Thai Massage*
10.30 am: Detox Shake
10:45 am: Colema*
12.00 pm: Detox Herbs & Fresh Juice
1.30 pm: Detox Shake
2.30 pm: Herbal Steam Sauna
3.00 pm: Detox Herbs & Coconut water
4.15 pm: Detox Shake
4.30 pm: Yoga (optional)
6.00 pm: Detox Herbs & Broth Soup
7.30 pm: Detox Shake
7:45 pm: Colema*
9.00 pm: Detox Herbs & Probiotic Capsule
*Massage and Colema times vary and will be scheduled on your first day.
Click the buttons below for Program Pricing.
3.5 Day Program
Detox Only:  9,000 ฿   
      (excludes accommodation)
Detox + Accommodation Rates: (4 nights)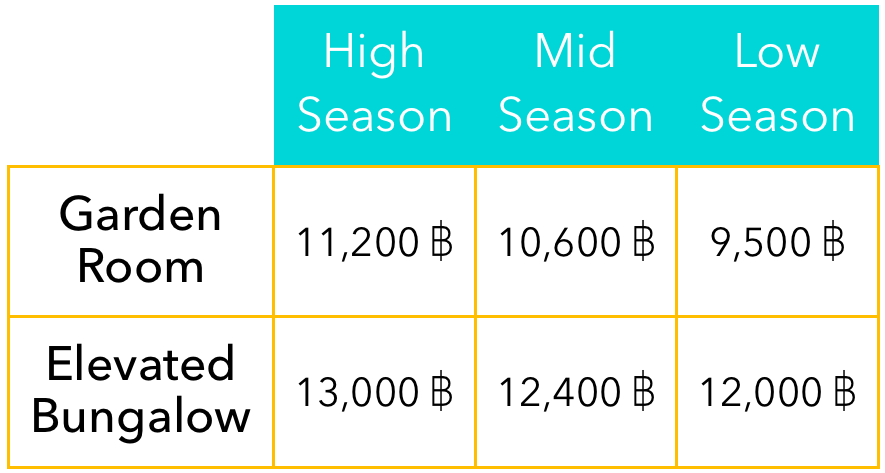 The 3.5 day detox program (4 nights) is designed for people who do not have the time to do a longer program but still want to experience the detoxification process and prepare their bodies for a future 7-day program. The 3.5 day program is also a great "tune up" for your system throughout the year to maintain optimal health.
7.5 Day Program
Detox Only:  18,000 ฿   
     (excludes accommodation)

Detox + Accommodation Rates: (8 nights)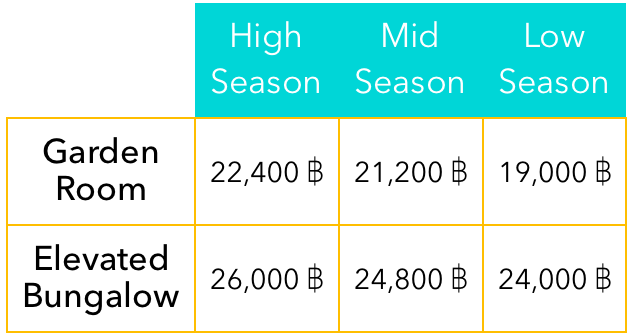 The 7.5 day detox program (8 nights) is the most popular. It takes exactly seven days of fasting to cleanse the entire bloodstream and thoroughly rid the lymph system of toxins.  Detoxers from around the world return to Ananda annually for the 7 day detox.
11 Day Program
Detox Only:  22,000 ฿   
     (excludes accommodation)

Detox + Accommodation Rates: (11 nights)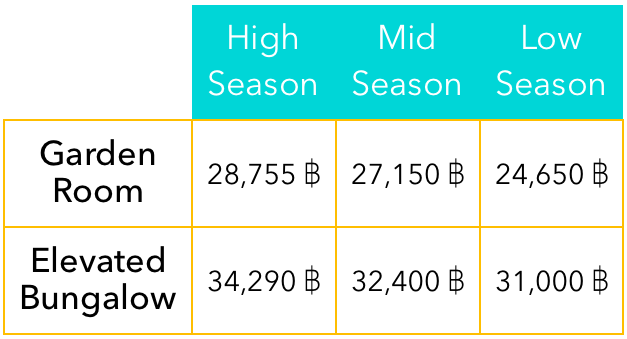 The 11 day program (11 nights) is our most thorough program. For the first 2 days the detoxer will eat a diet of fruit, raw vegetables and juices to prepare for the fast. This is followed by 7 days of fasting. The fast is broken gently on the final two days by repeating a gentle diet of fruit, raw vegetables and juices.
Notes on Pricing...
Prices in Thai Baht (฿). All services and amenities are complimentary. Prices are not modified if you choose not to use all of the offered services. Please note that promotional discounts apply to the accommodation pricing, not the base detox rate.  
High / Mid / Low Seasons
Low Season: 21 August – 19 December
Mid Season: 21 April – 20 August
High Season: 20 December – 20 April
Ananda's Time-Tested System
Our Detoxification and Cleansing Fast programs utilize a time-proven system to rid the body of toxins and other unwanted waste. 
Click on each element below to learn more.
Restricted Liquid Fasting
Fasting is the heart of the cleanse and the fastest most effective way of removing toxic materials from the body.  While abstaining from food the body systematically cleanses itself of everything except vital tissues thus eliminating harmful impurities. Our restricted liquid fasting process include vegetable broth, fresh juice and coconut water.
The initial days of the fast are usually the toughest, but this is also when the most waste floods the bloodstream and begins to flush out through the pores of your skin, mouth, urine and excrement.
Throughout the fast the body will hold on to essential vitamins and minerals while removing toxins, fat, mucus, diseased cells and old tissues.  This process maximizes the efficiency of each cell by activating the body's self healing mechanisms. Not only does fasting rejuvenate the body, but it refreshes the mind, clearing away stress and brain fog. During the fast you may experience heightened emotions as suppressed feelings surface, but with time you'll slowly purify your mind of this mental clutter and by the end of your cleanse you'll find your thoughts calm, clear and collected.
Colemas (Self Administered)
Every detox program at Ananda includes a daily Colema with an optional second session. A Colema is a self-administered colon hydrotherapy that involves a special kind of enema. It is very thorough in cleansing the colon (large intestine) and removing internal impurities in a powerful yet safe way.
At Ananda we only use Colema Boards® of California imported from the USA because they are the best and most hygienic equipment the market. We provide a private Colon Hydrotherapy room which our staff prepares and cleans before and after each session.
What is the difference between a Colema, Colonic Irrigation and an Enema?
Colonic Irrigation procedures utilize a machine to pump water into the colon. They are performed in clinics and require supervision from a trained therapist.
An Enema at best flushes out the rectum, but does not reach the depths of the colon.
A colema circulates more water than an enema and reaches all portions of the colon. The water is circulated by gravity, not a machine, and is therefore generally more effective, comfortable and safe.
Probiotic Capsuels
Our bodies are full of bacteria, both good and bad. Probiotics are the helpful bacteria that keep your gut healthy and strong. Probiotic Capsules are taken daily to reintroduce good bacteria into your system. Much of our healthy bacteria is depleted by years of poor eating and lifestyle habits. Proper bacteria is essential for overall health and well-being, including a strong immune system, complete digestion, nutrient absorption, and the formation of B vitamins and various amino acids. Our Probiotic Capsule formula is unique in that it can effectively establish itself in the bowels while supporting a balanced pH environment and a properly functioning digestive tract.
Classic Detox Formulas: Western & Ayurvedic Herbs and Super Green Herbs Formulas
Ananda's two herb formulas are the heart of the Detox Program. They work together to help soften and break up mucoid plaque and to remove toxic waste from the alimentary canal, organs and cells. We take extra care to source only the highest quality detox herbs in our classic formulas.
The first formula is designed to support the body's elimination of accumulated toxins. It helps to remove the layers of old stagnant waste (mucoid plaque) that often lines the colon walls, as well as dissolving deep seated toxins from the tissues.
The second formula is a gentle herbal blend designed to thoroughly cleanse the alimentary canal, liver, organs and deep cell tissues. It helps strengthen the body with essential nutrients and supports a healthy gastrointestinal tract.
Cleansing Products
Ananda's "Detox Shake" is a key element to assist in cleansing the body by absorbing toxins and removing them in a gentle manner. Our shakes combine two essential cleansing ingredients.
Psyllium Husk: This fibrous bulking agent sweeps toxic buildup out of the intestines. We use only high quality organic Psyllium Husk.
Hydrated Bentonite: This is a type of clay which has long been used for both internal and external detoxification. Because of its highly absorptive properties, Hydrated Bentonite is ideal for drawing out the toxins that the Psyllium then eliminates from the body.  We use one of the best quality bentonite products found in the world, which is made in Thailand.
These additional elements can can be added to our classic Detox Programs for an even more thorough and customized detox experience! 
Awards & Recognition
Ananada Yoga & Detox Center has been selected as the "Best Holistic Therapy Centre" by Global Health & Pharma's Alternative Medicine & Holistic Health Awards (2018). We've also been awarded "Trip Advisor's Hall of Fame" (2018) for earning a Certificate of Excellence every year for the past 5 years. 
Your body craves a detox at least once a year. It's a way to get in tune with your body and mind, and to "spring clean" your internal system and get rid of the built up toxins. Many who detox at Ananda return to annually to re-set their internal systems. 
View the video from past participants or CLICK HERE for testimonials from satisfied detoxers, many of whom return annually to reset their systems with another Ananda detox.
"Thank you for a great detox experience. The staff was very warm and welcoming and they took care of everything. I didn't feel like a number as they really made sure I didn't miss an appointment , shake or pill. I loved the daily massages and the yoga classes were really really good."
"Beautiful place! I had an amazing transformative 7.5 day detox at Ananda - great location, facilities, staff, services, and support. You can expect the retreats to be exactly as expected as advertised on their website, but even better! The colemas are fantastic (super easy in very clean and private facilities), great yoga & meditation, and daily massages. And the staff is wonderful in preparing and keeping you on schedule for your shakes, juices, and herbs. Recommend this place to anyone interested in learning more and trying a detox!"
"Before the cleanse I felt bloated, heavy and always not as well as I could be. Bad skin and tired with lots of trapped gas.The first few days were tough, but after day 5 I felt better and better each day; stronger each day and happier! After, I feel brand new. I feel clean and refreshed and ready to take on the world. I don't feel bloated, I have lots of energy and a new outlook on life. A tough but worthwhile 7.5 days!"
"Before I was feeling heavy and intoxicated. At the beginning it was tough, but day after day I started to feel better. Not really hungry. My mind after a long time was clear! Now I am happy. I feel good with my body, that is lighter. My skin is simply clean and beautiful. My senses are really working. I can appreciate taste and smell. I don't have that feeling of heaviness anymore. "
""Before starting the cleanse I used to feel heavy (emotionally, physically) and my stomach was always full even when not eating. During the cleanse, I felt good knowing I am doing something healthy for my body, but because of the strict diet, most of the time I felt physically powerless. The after is the part I love the most! I feel clean, carrying positive energy and also happy because I've lost some weight!" "